Residential Painting Services
Alpha Painting Services Dubai, UAE
Alpha Painters provides outstanding residential painting services
which includes both exterior and interior painting with utmost quality assurance. We understand the value of your property and thus we always strive to offer you something innovative and cost effective solution.We try our level best to give the best in quality home painting service in Dubai through our experienced team, latest equipment and premium quality raw materials. So, if you are looking for a quality and durable solution to your painting requirements, our residential painters in Dubai are always here to help you. With years of experience and expertise on different types comprehensive house painting projects in Dubai, we can provide you a hassle-free, quick and safe apartment painting service.

Our painting crews will take care of your property and you can expect that you will get a totally new looking home with fresh and attractive colours without any damage on any other part. We take immense care while before and during any painting service and keep the area clean using custom plans as per requirement. Our Alpha house painters team is professionally trained and well experienced in handling various types of based projects and thus you never have to worry about our expertise.

All our Alpha residential painters are licensed and fully insured to work on any project and thus you would not have search for find me a home painter for any painting requirement.

How we do it?
• Planning
• Choosing the Right Paint
• Matching Paint to Surfaces
• Selecting a Finish
• Choosing the Right Brush
• Choosing the Right Roller Cover
• Choosing a Ladder
• The Key to great results
Schedule Painting Services Now & Get Free Estimate
PREPARING
Our residential painters in Dubai pay special attention to preparing the surface as it ensures the best result, no matter how high quality paint or latest equipment you use. We use sealers and primers as per requirement and remove earlier paints to make it suitable for creating a perfect bonding between the paint and the surface which not only make it look shiny but also ensure a high durability. We also spend enough time on preparing the room before starting any house painting in Dubai so that you do not have to bother about spilling and droplets of paint. Here is an overview of the procedure we generally follow:

• Remove draperies, pictures, mirrors, area rugs, hardware (if possible), and switch and receptacle cover plates
• Move all furniture to the centre of the room or the room, if possible. Cover all furniture with drop clothes
• Tape off woodwork and tape down plastic drop cloths
• Wrap plastic around light fixtures, and use masking tape to cover any hardware you can't remove
• Open a window or door to ensure good ventilation
• Clean the surface as needed
• Gaps between walls, ceilings, crown mouldings and other interior trim can be filled with the appropriate Pre select caulk after priming the surface


Getting Ready to Paint
We are known for our friendly behaviour with our clients where we always give client's idea, plan and taste the first preference. So, whenever we take a new project, we consult with our client regarding their colour choice and provide them full colour sample to choose from. We prepare, prime (if necessary) and paint an inconspicuous spot.
Our residential painters in Dubai give every task the required time to dry as per the paint provider's instruction to ensure it gives you best result. Even if it requires any extra work, or there is any spot on the surface, we consult with our project manager and take necessary steps. So, in brief, you won't ever get a chance to point out at our work, once we declare it as 'done'. Before we paint, our Dubai based residential painters use a paint scraper, wire brush, sandpaper or power washer to remove all surface contamination, such as oil, grease, loose paint, dirt, foreign matter, rust, mould, mildew or mortar efflorescence. Make sure that cracks and imperfections are patched or caulked.
Warning! Removal of old paint by sanding, scraping or other means may generate dust or fumes that contain lead. Exposure to lead dust or fumes may cause brain damage or other adverse health effects, especially in children or pregnant women. Controlling exposure to lead or other hazardous substances require the use of proper protective equipment, such as a properly fitted approved respirator and proper containment and cleanup.
Schedule Painting Services Now & Get Free Estimate
Our skilled and efficient staffs handle projects of any size or structure all over Dubai, UAE. 
The Painting Company that provides Excellent Results at Competitive Rates
Caution
When using oil-based coatings, we keep paint away from heat, sparks and open flame. We do not smoke on the job site. We extinguish all flames, pilot lights and heaters. We turn off stoves, electrical tools, appliances and any other sources of electrical ignition. While painting and until all vapours are gone, we keep the area well-ventilated.
Protect Your Paint Job
Wait at least two weeks before washing the newly painted surface. After that, clean with a mild household detergent and a soft cloth or sponge.
Tips to Protect the Environment
We buy only the amount of paint you need so there is little to dispose of when we complete your project. If we do have leftovers, we follow these guidelines:

• Save small amounts of leftover paint for future touch-ups. To keep it fresh, place a layer of plastic wrap over the mouth of the can before replacing the lid. Pound down the lid securely.
• We Check with your local waste collector to see if it accepts dried latex paint. If so, place the open can in an airy spot away from children and pets. When the paint is completely dry, put it in the trash.
• We seal oil/alkyd paints in the can and store them safely away from heat sources until you can take them to an appropriate waste-disposal site, such as community paint/stain collection events where you can safely dispose of leftover paints.
• We never pour paint, stain, or any other coating down a drain, into a storm sewer or anywhere else that might contaminate the environment.
Cleaning Up
To get a great-looking finish coat and the beautiful, long-lasting results you expect, take the time to ensure that the surface to be painted is clean, dry and smooth and coated with the correct primer. We clean any spills before they dry with a paper towel dampened with mineral spirits or paint thinner. To get a great-looking finish coat and the beautiful, long-lasting results you expect, our Dubai based residential painters make sure to properly apply primer to the surfaces we plan to paint. The primers/sealers we use, are formulated to solve typical painting problems while helping to make our finish coat smooth and uniform:

• Achieve a smooth, professional finish
• Block stains, marks and odours
• Assure adhesion
• Speed top coating
• Prevent peeling
• Attain the truest paint color in the fewest coats
• Improve touch-up performance of the topcoat

In general, the only time a primer is not needed is if you're re-painting a surface that's in good condition. Your pacific painters paint expert can provide additional advice about selecting and applying the right primer/sealer for your project. Painting
Environmentally conscious
At Alpha Painters our painters are committed to adopting practices that are approved and friendly to our environment including:

• Compliance with environmental legislation;
• Compliance with air and noise quality guidelines;
• Adopting friendly waste management practices;
• Safe and responsible clean up of brushes and paint equipment;
• The use of environmentally friendly paint products with low odour formulation.
Safety Standards
Alpha Painters Employees and sub-contractors follow strict safety standards in accordance with our Occupational Health and Safety and Environmental Management Procedures. We use a range of Elevated Work platforms and access equipments. Our Personnel are fully licensed for all the tasks we undertake. All our employees are site safety induced and have induction cards.

Please contact us if you'd like to request additional information, clarification, or and for an estimate regarding this service or any other services pacific painters offer.
Schedule Painting Services Now & Get Free Estimate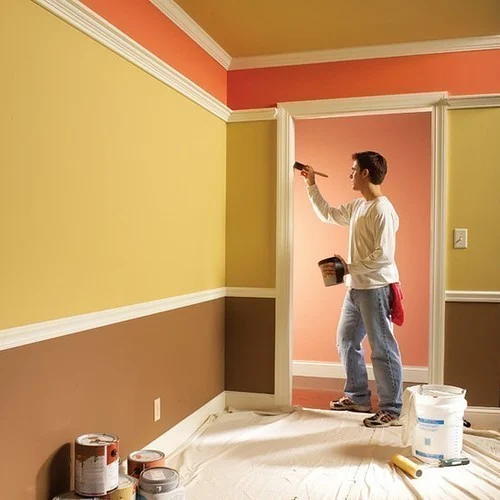 Alpha Painters is one of the topmost painting companies in Dubai and UAE.  We are a team of professionals who provide quality painting services at an affordable budget in Dubai, Abu Dhabi, Sharjah and UAE.  At Alpha Painters we provide all types of residential, commercial and industrial painting services.